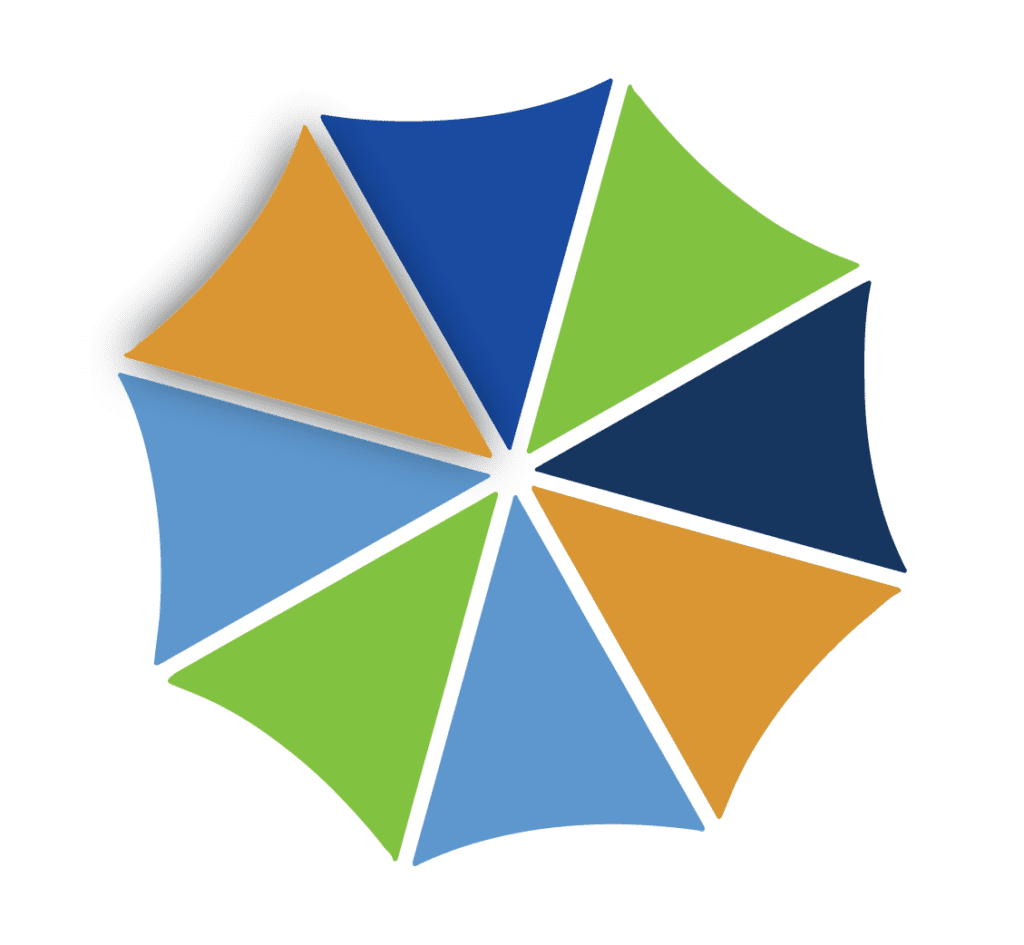 Campaigns & Legislators
Professional Constituent & Voter Outreach Services
Why use a full-service vendor for Telephone Town Hall outreach?
TTHM has more experience producing live virtual forums than any other Teletownhall vendor.
We provide a seasoned Moderator and Operators to ensure quality dialogue and data collection.
Our Best Practices lead to higher delivery, pickup and retention on TTHM events.
Reporting is delivered same-day as the event in most cases along with a full conference recording.
Team TTHM can create a custom workflow to help legislative staff follow up with constituents.
We offer Event Add-Ons like Language Simulcasting (Spanish, Korean, Vietnamese, Armenian & more), Web Registration and Webinar Integration to expand your audience.
Telephone Town Hall Meeting uses the robust Teletownhall dialing system instead of less effective virtual forum services. Teletownhall boasts a more secure system with more features.
Telephone Town Hall Meeting (TTHM) creates targeted, multi-channel virtual events using our Toolbox of Services. We do the heavy lifting by handling live event setup and production using a team of highly experienced moderators and operators. TTHM also keys on sending TCPA-compliant P2P Text Alerts manually, one at a time to protect ourselves and our clients from potential violations of federal regulations.
Telephone Town Hall Meeting is the best at live virtual forum production, and we are not shy about that fact. Read on to learn more and Contact Us for a virtual demo of our full-service production process.
Are your Teletownhall calls and peer-to-peer texts being delivered?
Most Teletownhall and P2P text vendors working in the political space do the bare minimum to deliver client messaging. Campaigns and Legislative Offices may not even be aware that their messages are being caught up in SPAM filters.
TTHM works to ensure that phone and text traffic is cleared through mobile and landline service providers. Other vendors skip mandatory P2P text registration, leading to a reduction in delivered messages. We have even developed a proprietary Caller ID Clearance process to help our clients navigate the sea of SPAM filters and mobile carrier Disallow Lists.
Read about how TTHM manages compliance for its clients.
What options do active campaigns and sitting legislators have for reaching voters?
Reach your audience no matter who they are or how they want to connect using Teletownhalls, P2P SMS/MMS Text Alerts, Webinar Integration/Managed Webinars and our cutting-edge Alternate Language Simulcasts. Our full suite of In-Event Add-Ons can be used in concert to create a dynamic, diverse and far-reaching virtual forum.
Our legislative clients have learned the value of talking to voters outside of election cycles. Retaining a seat starts on Day One of service, not on Day One of an election cycle. Legislative clients who use our Teletownhall forums for regular outreach to constituents increase name recognition and build trust through open dialogue.
Visit the TTHM Toolbox to learn about the managed outreach services we offer. Then Contact Us for a complimentary demo and to discuss which tools best fit your goals.
What is a Telephone Town Hall Call?
---
Imagine running your own talk radio show exclusively to an audience of your choosing, who remain in the safety of their own homes, where you can have a live and interactive dialogue with the ability to deliver key information, take questions, and collect data points such as emails.
With Telephone Town Hall Meeting, we make the process easy by hosting and managing the call for you, so all you need to worry about is the message you want to deliver!
Our Industry-Leading Telephone Town Hall Call Capabilities
Unlimited calling capacity
A digital sign up page to advertise and boost attendance
Virtual Staff to screen questions for live Q & A
Ability to run a Simulcast in Spanish, Vietnamese, Mandarin, and Cantonese to name a few
Live survey questions with instant results
Email collection capability
Detailed reporting package including a full conference recording
Toll-free phone number so participants can join the event manually
Benefits of Telephone Town Halls
Direct interaction and engagement with your constituents
Multiple options for joining: including by web, telephone and auto-dial
Effective tool for delivering emerging facts and information without the filter of the media
What is Peer to Peer (P2P) Texting?
---
TTHM's Peer-to-Peer (P2P) texting has the highest read and response rates of any digital outreach. allows Telephone Town Hall Meeting (TTHM) to send thousands of scripted text messages an hour to your target audience.
P2P Text Alerts do not require recipients to opt-in because all texts are sent manually, one-at-a-time by members of the TTHM staff. We also manage replies to ensure a complete interaction.
Benefits of Peer to Peer Texting
Most read form of outreach, beating out email, with a 98.5% open rate
Interact directly with constituents through reply management
MMS (multimedia messages) available which all ow for personalized images & GIFs
What Are Our Print & Direct Mail Options?
---
TTHM's creates custom print products ranging from pamphlets to mailers and custom print products. Our experience with USPS guidelines helps us ensure that mailings are successful every time, within the timeframe you need and budget you can afford.
We've managed mailings on every scale, from local neighborhood lists to multi-million recipient campaigns.
Benefits of Print & Direct Mail
Supports messages deployed through digital, telephone and other outreach messages
Allows constituents to have something tangible to keep in their homes or offices
Creates name recognition and positive brand association, if the pieces are well-crafted
What Are Voice Broadcasts?
---
Voice Broadcasts, sometimes called Robocalls or Phone Blasts, can deliver crucial information when well-produced and delivered effectively. Decades of experience with this outreach method make us a great choice to conduct your robocalls. As with our telephone town halls, we manage the details so you don't have to. From script-writing to execution – TTHM produces a quality voice broadcast every time.
Benefits of Voice Broadcasts
Allows you to pre-script and pre-record your message for ultimate quality and message control
Rapid turnaround for urgent and emergency messages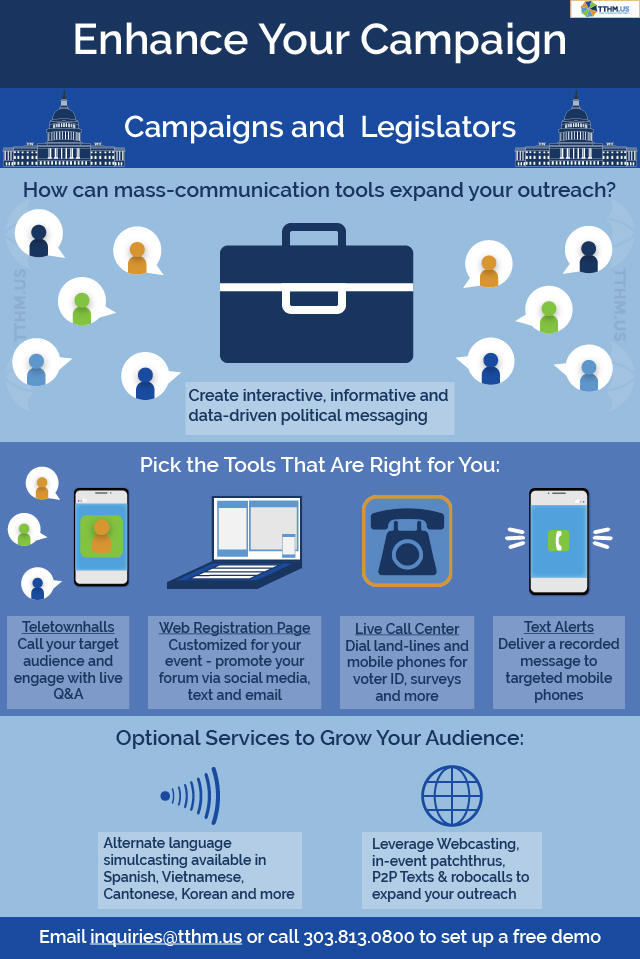 Request a Demo
Want to get a closer look at how it works?
Get in touch with us now to schedule a demo of our outreach technology and services.