Webinar Integration & Event Management
Leveraging Webinars with Other Tech
---
Webinars defined the transition into the 2020's in both our personal and business lives. Love them or hate them, webinar platforms like Zoom, GoToWebinar and WebEx are here to stay.
At TTHM we embraced the Zoom Revolution by connecting our Teletownhall events to webinar platforms using a two-way audio connection. And we can set up a registration page for your Webinar to distribute in advance of the event.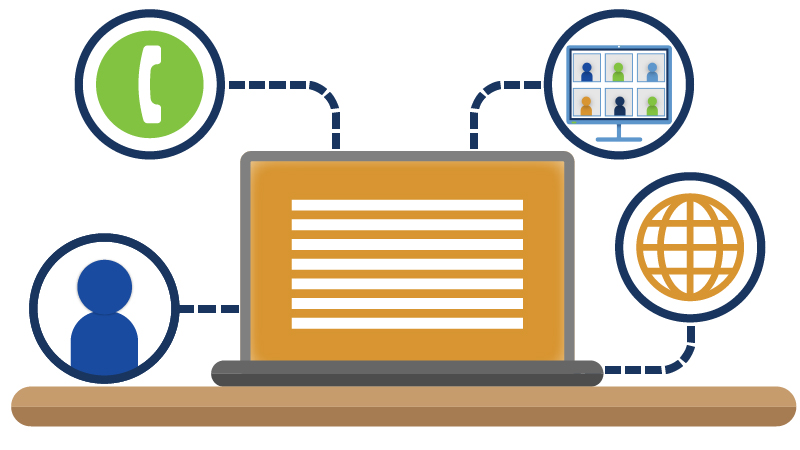 The end result of the disruptions we all experienced in 2020 has been another addition to our TTHM Toolbox and even broader outreach for our clients. The webinar format is ideal for the active, motivated, tech-savvy segment of your target audience.
Whether you want to add a webinar to your Teletownhall event, or produce a Webinar-Only virtual forum, TTHM stands ready to make your event production successful. We have extensive experience working on the WebEx and Zoom platforms and can utilize either option based on client preference. TTHM utilizes our experienced live event production team to set up, moderate and manage Webinars with our clients.
Webinar Integration vs. Stand-Alone Webinars
---


How does webinar integration work?

Those participants that you can expect to show up on-time in a more technically-advanced webinar setting can join your Webinar. You can invite potential participants to your own Webinar, or TTHM can create a Zoom or WebEx Webinar event and provide you with invite information to distribute.

Webinar participants are able to watch any speakers presenting on that platform while submitting questions and comments as webinar participants. Meanwhile, TTHM brings a larger audience to the same virtual event using our outbound-dial Teletownhalls. Telephone Town Hall Meeting provides a Moderator to manage your Teletownhall and another virtual operations specialist to manage the webinar integration and overall live event production.

How does a stand-alone Webinar production work?
While TTHM has managed dozens of Teletownhalls integrated with Webinars, we are also happy to produce a stand-alone Zoom or WebEx Webinar for our clients. You can promote your Webinar with a capacity of up to 1,000 attendees. TTHM provides setup assistance, a Moderator to manage the live event, and an operations specialist to oversee the live webinar production.
Take questions from attendees, run polls for participants, and deliver dynamic visual content. All with an experienced live event production team at your side.
Managed multi-platform virtual forums
---


Multi-platform events are nothing new to us. We want our clients to be able to reach a broad audience with the powerful rapid outbound dial of Teletownhalls, while also welcoming an audience of proactive and engaged participants to a webinar.

TTHM has long offered a Web Simulcast option for participants who prefer an online interface. Our audio-only Web Simulcast – as well as most webinar platforms – allow participants to submit questions and vote in polls along with the larger listening audience on the phone.

A Web Simulcast promoted with a direct web link offers an intermediary participation option that is easier to access than webinar platforms, but more dynamic than listening on the phone. The Web Simulcast is accessible via a simple URL with no event IDs or passcodes. This lightly technical option provides an easy way to promote event participation on social media on the day of the event and throughout the live production.
Telephone Town Hall Meeting already uses the Zoom and WebEx platform to help our Alternate Language Simulcast interpreters deliver their translations. That means Webinar participants can choose the live Alternate Language broadcast when participating through WebEx.

Managed Webinar Omnicasting
Our Managed WebEx Webinars can also be built to accommodate live transcription of the forum in over 100 languages. Webinar participants are able to select their transcribed language of choice so that they can read a live translation while listening to the English-language broadcast. TTHM can provide technical support in specific languages to help participants register for and join Managed WebEx Webinars.
Visit tthm.com/dallas to see an example of how we support this dynamic outreach option.
The WebEx Transcription format requires that all of your featured speakers broadcast their audio through WebEx. English-language audio is then rebroadcast to any Teletownhall or Web Simulcast participants.
Webinar Add-On and Stand-Alone Managed Webinar Costs
---
Add a WebEx participation option to your scheduled Telephone Town Hall Meeting event for $750. That cost includes Registration and a Webinar Manager for the event.
TTHM can also host a Managed WebEx Webinar for $1250. With this option, we also provide a Moderator and platform training for featured client speakers and decision-makers. This stand-alone webinar option still includes Registration and a dedicated Webinar Manager. Featured speakers would need to connect via WebEx to accommodate the Language Transcription option for participants. Participants in stand-alone WebEx Webinars can choose transcription from 100+ languages.
Our powers combined…
---


Combining a cornucopia of virtual audiences into a broad event that spans demographics and listener preferences has been an exciting project for Ben and the rest of our Super Staff. We are extremely proud of the results. Integration of diverse outreach tools is our specialty and our passion.

TTHM can use its professional Zoom and WebEx Webinar accounts to connect to a Facebook Live feed along with a range of other live-streaming outlet options. Have a unique live stream that you want to tie into your webinar? We love a challenge, so let us know what kind of integration completes your outreach.

No matter how many virtual event access options you provide, Teletownhall participants will still have the same engagement options they always have. Those on the phone can submit screened questions for live Q&A, provide email/mobile opt-ins to our live operators, and patch to a targeted phone number for advocacy or assistance.
Contact Us to learn more about multi-platform outreach events managed by TTHM.
Testimonials from our participants:
Request a Demo
Want to get a closer look at how it works?
Get in touch with us now to schedule a demo of our outreach technology and services.